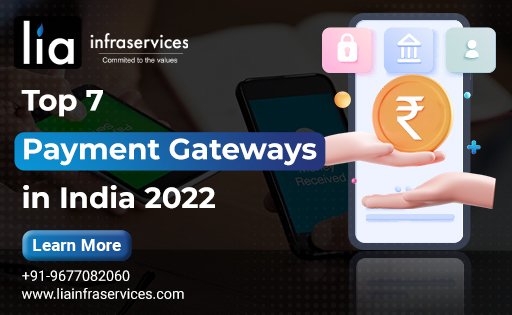 Top 7 Payment Gateways in India 2022
9
min read
Be it any e-Commerce business or for any business which involves money transactions, Lia Infraservices the leading e-Commerce Website Development Company in Chennai, India integrates the best payment gateways for your global business with safe and secured money transactions. It is clear that payment gateways are a necessary element of the online economy.
Choosing the best payment gateway among the Top 7 Payment Gateways in India is one of the most important things you need to do when you plan a roadmap for your online E-Commerce business development in Chennai, India. Read this blog to understand the difference between various Payment Gateway that supports Indian Rupee and international Currency and also the most essential details you should consider while choosing the best payment gateway based on the nature of your business.
Firstly, let's look into the 7 steps to choose the best payment gateway for your business, followed by the top 7 payment gateways in India.
7 Steps To Choose The Best Payment Gateway In India:


1. Business Approval Process:
Do you like to start accepting payments right away and then come back to complete the documentation at a later stage?
Well, Lia Infraservices the professional Mobile App Development Company in Chennai integrates a payment gateway that lets you focus on your business growth while you complete the document verification process is always preferred.
Choose the one with an easy documentation upload/ sharing facility.
2. Quick Integration :
Are you looking forward to hiring a developer to integrate your website with your payment gateway?
Ideally, Lia Infraservices the No1 Software Development Company in Chennai will help you with a payment gateway that will be quick to integrate. The software development experts should support you across mobile and web app development company in Chennai with a quick payment gateway integration with plugin support for third-party e-commerce platforms and shopping carts.
3. Cyber Security :
Losing the trust and credibility of your loyal customer due to hacking or leaking sensitive card data is the worst thing that can happen to your business.
As there have been technical advancements, so have been the rise in cyber-related crimes and false claims. Lia Infraservices lets you understand, how the payment gateway protects you from frauds and hacks.
Some of the security practices include
128 bit SSL encryption,
Tokenization,
Advanced Encryption Standard and
stringent compliance with Payment Card Industry Data Security Standard (PCI-DSS).
4. Pricing And Fees Of The Best Payment Gateway :
While you sell and earn online, will you like to share a good chunk of your earnings with a third-party service provider? Or, will you like to get charged for something you were unaware of?
Certainly, NO. Look for a payment gateway with affordable rates without annual maintenance charges and setup fees.
Also, be aware of any hidden charges. These might include charges you probably did not think about like- cancellation charges or charges on not transacting a minimum account every month!
5. Multiple Payment Options :
Providing a choice to your customers to pay by their preferred payment mode is always recommended.
For any business that involves user purchases, donations, etc,. It is ideal to choose a payment gateway that provides a number of ways to make payments. like,
Credit/debit cards,
Net banking,
UPI,
Wallet, etc should be available by default.
This makes it easy for your customer to have an alternate option to make the payment in case they cannot complete the transaction using one option. EMI and International cards also help you increase your consumer base, enhancing your sales in the long run!
6. User-Friendly Transaction Management :
A user-friendly transaction is nothing but a platform where you can check the status of your transactions and analyze your transaction history and get quick notifications.
Instant transaction notification through SMS gateway will help you have a smooth experience when you check your transactions, in the long run helping you save your time and effort. Lia Infraservices E-Commerce website development company in Chennai, lookout for a platform that is the one-stop destination and caters to everything related to online business.
7. Payment Gateway Customer Support :
What if you get stuck while using your payment gateway or come across some technical issues which do not have any answers on the web?
Despite all these facilities and aids, the most important thing you should look out for for the top payment gateway in India is the kind of customer support they provide. Both process-related and tech-related queries should be addressed as soon as possible so that your business is not impacted at all!
CTA: Set up your own E-Store or Website with Payment Gateway Integration?
Button: Consult the Experts
Now, let's look into the Top 7 Payment gateways in India that are quite popular among Online Shoppers & users.
Top 7 Payment Gateways in India:
1. Paytm
Paytm Payment Gateway is one of the top payment gateways in India, 2021. Paytm Payment Gateway offers instant, online onboarding and easy integration options.
The payment gateway supports all types of websites and apps and has plugins for all major eCommerce platforms like WooCommerce, Shopify, Magento and 20+ more.
Paytm Payment Gateway's feature-packed mobile SDKs provide the best checkout experience for a business's customers.
It also offers ready-to-use JS snippets and powerful APIs.
Highlights:
Paytm Payment Gateway is the only payment gateway to not levy a charge on UPI transactions.
It offers 0% MDR (merchant discount rate) on UPI and RuPay debit cards.
The payment gateway also has the industry-highest success rates, T+1 settlements and support for 2,500 transactions per second.
Additionally, Paytm's International Payment Gateway empowers Indian businesses to accept international payments in all major currencies, from over 200 countries.
Indian businesses can sell their products across the globe with Paytm Payment Gateway without any additional API integrations.
Key Features:
Domestic Credit Cards supported: Visa, Master, Maestro, Amex, Discover, and Diners
Shopping Cart Kits currently available: Opencart, Magento, Zencart, WordPress, Woocommerce, Joomla Virtue Mart, Prestashop, OSCommerce, WordPress Ecommerce, Ubercart, Easy digital, WHMCS, ViArt, Opencart, CScart, Virtuemart, Drupal Commerce, Moodle, Nopcommerce, Gravity forms.
Integration kits are available in the following environments: PHP, ASP.NET, Ruby On Rails, JSP, VB.NET OSCommerce
Mobile App Integration: Available for both Android, iOS.
Price:
No setup fee. No recurring fee and No Annual Maintenance Charges
Applicable Fee per Transaction
2. Stripe
Stripe was launched in 2010 and it is one of the most industry-standard payment gateways loved by a lot of developers. Stripe payment API for developers gives access to methods for accepting payments, managing subscriptions, tracking user accounts, and sending invoices.
The user interface is the best in the industry. A lot of good companies are using its services such as Lyft, Postmates, Doordash, TaskRabbit, Deliveroo, Slack, Kickstarter, and Pinterest.
Let's discuss some of its key features.
Key Features:
Vivid and detailed documentation for developers to implement the service
Best developer and marketplace tools. It allows you to build powerful connections with leading marketplaces and third-party software, reach out to new audiences, and maximize renewal.
Suitable for international transactions.
Suitable for large companies who can employ the developers in the house or hire web development companies for their projects.
Stripe allows you to build and incorporate trial periods in your plans, or give coupons to help you devise and refine your strategies.
Price:
Domestic: 2% for most cards issued in India and 3% for cards issued outside of India.
International: 4.3% for cards issued anywhere. Additional 2% for currency conversion.
3. PayPal
Paypal is indeed one of the most popular payment gateways and it is well known in all countries.
Paypal is providing services for the last two decades and now it's providing services in more than 200 markets around the world.
Currently, it has more than 237 million active account holders with several platforms including Braintree, Venmo, and Xoom.
Key Features:
Paypal allows their merchant and the consumer to perform a transaction in more than 100 currencies, funds can be withdrawn ìn 56 currencies, and hold balances in 25 currencies in their Paypal registered account.
No withdrawal fees on, no startup fee, no termination fee, and no monthly fees.
Mobile App Payment Gateway Integration: iOS and Android.
Different plans are available as per the needs.
You are not required to store credit card or bank account information on your server, it permits high-security payments on low-security websites and makes PCI compliance easier, even on low-cost or free tier cloud hosting.
Price:
Annual maintenance Charge: Free, Zero maintenance charges.
Transaction Fee per Transaction: 4.4% + fixed fee based on the currency
Find the complete detail of fees from the link Paypal
4. Razorpay
Razorpay is the only payment gateway in India that allows businesses to accept, process, and disburse payments with its product suite.
It allows you to access all the payment modes including credit card, debit card, net banking, UPI, and popular wallets including Airtel Money, FreeCharge, JioMoney, PayUmoney, Ola Money, Mobikwik, and PayZapp.
Razorpay also has an amazing UI interface and the onboarding process is pretty easy.
Razorpay only works with the current account, you can not operate with this company if you have a saving account or you just want to test out your business.
Key Features:
Documentation is top-notch in the industry just onto the exact same level as Stripe.
Supported eCommerce CMS System: All major ones such as WooCommerce, Magento, CS-Cart, Opencart, Shopify, WHCMS, WordPress, Arastta, Prestashop.
Mobile App Integration: Mobile SDK's for Android and iOS via Cordova/Phonegap.
Price:
Annual maintenance Charge: Zero, no one-time setup fee.
Transaction fee per transaction: 2% per successful transaction; +1% for Diners and Amex Cards, International Cards, EMI.
5. PayU
Another competition for Razorpay is PayU (formerly known as PayU Money) which is the product of an Indian payment processing corporation.
PayU is one of the best and simplest online payment solutions that was designed to fill in the gaps left by complex service providers.
They have an easy sign-up and quick onboarding process also it takes minimal development effort.
The user interface is pretty nice. The service offers a single integrated solution that lets users start receiving local payments in all locations where it operates.
PayU offers more than 250 local payment methods and multiple currency options.
Key Features:
International Payment / Credit card Support: Supported
100+ Payment Options including UPI, debit/credit cards and net banking
Documentation is best in the industry as in the same bar of Stripe and Razorpay.
Supported eCommerce CMS Systems: All major CMS supported
Mobile App Integration: Android, Windows, and iOS.
Accept payments in 100+ currencies
Price:
Annual maintenance Charge: Zero, no setup charges.
Transaction Fee per Transaction: 2% + GST for each transaction. For American Express & Diners Cards, transaction fees are 03% + GST for international transactions & EMI payment options, there is a set-up fee that needs to be paid along with Annual Maintenance Charges (AMC). Also, the transaction rates are 3% + 6Rs for every transaction.
6. Instamojo
Instamojo is another payment gateway option that is getting which is getting a lot of attention these days.
They have a pretty good onboarding process. You can just enter your tax information, bank details and that's pretty much to set up your account within an hour.
Instamojo works with saving accounts, you don't need to have a checking account. The user interface is also very nice.
Key Features:
Documentation is pretty good for Instamojo.
Multiple Payment Options are available including UPI, debit/credit cards, net banking, and wallets
Supported eCommerce CMS System: All major ones such as Magento, Prestashop, Opencart, etc.
Price:
Annual maintenance Charge: Zero
Transaction Fee per Transaction: 2% + Rs 3 per transaction.
7. CCAvenue
CCAvenue is one of the largest payment gateways in India that offers a wide range of payment options.
They offer 200+ payment options inclusive of 6 credit cards such as Amex, JCB, Diners Club, Mastercard, Visa, and eZeClick. CCAvenue also allows a Multilingual payment page in 18 major Indian and international languages.
CCAvenue documentation is amazing, a lot of blogs and articles are there to integrate almost any tech stack. The CCAvenue user interface is decent.
Note: Their onboarding process is complicated for users.
Key Features:
International Payment / Credit card Support: Supported on CCAvenues. Your eCommerce store can represent your product pricing in any number of currencies. Your customers can check out on the CCAvenue payment options page using their desired currency.
Multi-Currency Support: CCAvenue allows the collection of payments in 27 major foreign currencies.
Supported eCommerce CMS System: CCAvenue has developed API for most of the shopping carts such as Buildabazaar, Cubecart, Drupal, Interspire, Joomla, Magento, Magento Go, Martjack, Moodle, NopCommerce, Opencart, OsCommerce, PrestaShop, VirtueMart, WHMCS, WordPress, ZenCart.
Mobile App Payment Gateway Integration: Android, iOS, and Windows.
Price:
No setup fee
Annual maintenance Charge for a Startup account: Rs 1200
Transaction Fee per Transaction:
Domestic Credit & Debit cards on Visa, Mastercard, Maestro RuPay: Flat fee @ 2%
Wallets: Freecharge, Mobikwik, OlaMoney, Jiomoney, Paytm, PayZapp, Jana Cash, SBI Buddy.
Mobile Wallet: Flat fee @ 2%
IMPS & UPI: Flat fee @ 2%
International Credit Cards on Visa, Mastercard, American Express, JCB and Diners Club: Flat fee @ 3%
Taxes extra as applicable from time to time.
Conclusion:
Contact Lia Infraservices – The No.1 eCommerce website development company in Chennai are not just regular website developers, doing some designing and backend work. We possess the skillset to choose the right Payment Gateway API that fits the best for your business. The Top 7 Payment Gateways in 2021 helps you to choose the right API for your website and the 7 Steps to choosing the Payment gateway helps serve you the basic knowledge on how to choose the safe, secured and trusted API for the users with the best web and mobile app development.
There is no need to redirect your customer to some external website for payment. All the payment gateways services have some pros and cons and being a professional Web app development company in Chennai, it's our job to find the best one for your website considering multiple factors and especially customer experience.


Hire a developer or an agency to take of payment system for your website!
Set up Free Consultation Today.