Car Wash Mobile App Development in Saudi Arabia
6
min read
Home >Mobile App Development Saudi Arabia
Let's look the Top Car Wash Mobile App Developer in Saudi Arabia – Lia Infraservices can design and develop any business ideas into innovative Android and iOS Mobile Apps in Saudi Arabia. Smartphones have made life easier and more convenient than ever before. Business digitization has raised the usage of modern technology and people can now access a wide range of services from their mobile phone with relative ease.
So, if you want to get your car cleaned, you can skip huge lines, save time reserving the service, and avoid waiting for your turn by downloading the one on-demand car wash mobile app development company in Saudi Arabia, which will be your ultimate solution. With the success of on-demand service apps, on-demand car wash mobile apps are gaining popularity, and car owners are employing these on-demand car detailing apps to have services delivered to their preferred locations.

Anyone who owns a four-wheeler understands the need of washing it on a regular basis. Because of our hectic schedules, we are occasionally unable to do so or forget to wash the automobile. However, with the arrival of on-demand car wash mobile app development, getting your vehicle washed has never been easier. Our car wash mobile app development services in Saudi Arabia will assist individuals in scheduling their car wash ahead of time so that they may submit it for the same day.
Benefits of a Car Wash Mobile App:
No Bargaining – When a customer uses an online platform to purchase a product or service, he does not have the opportunity to negotiate or bargain and must pay the price quoted.
Easy management – You may manage your slots and clients so that no one has to return to your service station after visiting.
Multiple Payment Facility – Customers can pay for services using methods other than cash, such as a smartphone app, which makes it simple for them to do so.
Improved brand recognition – Having an app for your own brand rewards you with increased brand awareness and business scaleup.
4 Reasons you should own the Car Wash App?
It's simple to manage your clients and deliver better service.
There will be no waiting or queues outside your vehicle wash facility.
Reduce the amount of money spent on customer service and bookings.
A pleasant user experience is assured and offers a high degree of satisfaction.
You can expand your business to any level you choose with a car wash app designed to handle your services. Investing in the development of a car wash mobile app can help you with huge profits.
Meticulously crafted Car Wash Mobile App Development in Saudi Arabia:
The construction of an on-demand car wash software is fairly difficult because it involves specialized strategizing, planning, API integration, and a variety of other mobile app development techniques. Our on-demand car wash app development services can assist you in establishing an on-demand car wash. Lia Infraservices is made up of highly qualified web developers and experienced project managers that know how to deliver mobile app projects on time and provide technology solutions to those in need.
We've created and launched a variety of on-demand mobile apps that connect users with on-demand app service providers. The demand for a mobile application that can route car wash service providers by location, assist consumers in finding them using a quick mobile search tool, and pay for the services using the app is growing.
Features of Car Wash App Development:
On demand Car Wash App Development is classified into 3 modules.
User Panel
Admin Panel
Washer Panel
1. User Panel
Collecting details about the car:
To choose the correct wash service, fill in the essential automobile information, such as the model name, year, colour, and other relevant characteristics.
Booking a time Slot:
Prior to a car wash, you can specify an available date and time. It assists in the proactive planning of recurrent services.
Modes of Payments:
With the app, you may provide the user with a variety of payment options based on the wash plan they choose.
Organizing Wash Schedule:
Users can use the app to arrange vehicle wash appointments at times that are convenient for them and the service providers.
Notification through push Messages:
If a new order is successfully placed or cancelled, it will notify the vehicle washers and user.
Car Wash history:
This section will display the history of all previous washes as well as any planned washes.
Choose from multiple car wash packages:
You can choose from various car wash packages or plans for different vehicle washes depending on the car model or wash type.
Accept or reject the wash request:
If they do not have the washer agent available, the admin or washer can accept or refuse any car wash request.
Tracking service status update:
It allows users to track the status of car wash services and when their vehicle will be ready for pickup.
2. Washing Agent Panel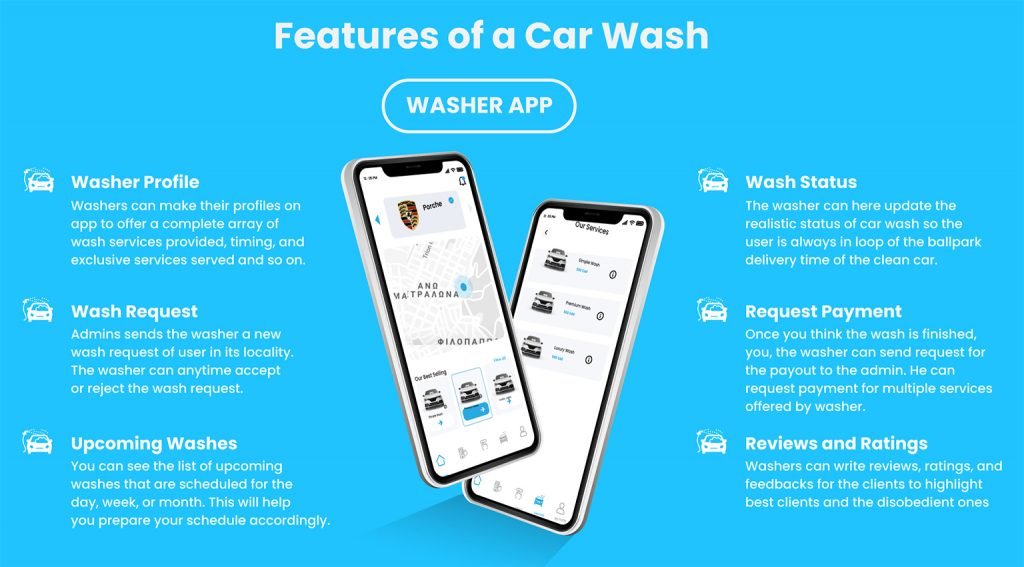 Update Washer Profile:
Washers can create profiles on the app to offer a full range of wash services, as well as timing and special services.
Mange Car Wash Request:
Wash Request The washer has the option to accept or reject the wash request at any moment.
Future Car Washes
You can see a schedule of upcoming washes for the day, week, or month. This will assist you in planning your timetable.
Car Wash Status Update:
The washer can update the realistic status of the vehicle wash here, keeping the user informed on the ballpark delivery time of the clean automobile.
Make a Payment Request
When you believe the wash is complete, you, the washer, can submit a payout request to the admin. He has the option of requesting money for a variety of washer services.
Ratings and Reviews
Car owners can leave reviews, ratings, and feedback for the service taken in order to highlight the best and or pleasant experience.
3. Admin Panel
Administrating the Request:
In the car wash app, the admin has the ability to accept or deny any washer request.
Manage the Request for a Wash:
Admin can handle car wash requests in advance by giving priority to washers that are idle.
Creating Car Wash Plans/Packages:
Create Wash Plans Admins can create custom price packages based on the services provided, the length of the wash, the location, and other factors.
Manage Car Wash History:
On the dashboard, the admin can manage and analyze car wash history for verifying wash payouts, service occurrences, and measuring competence.
Organize feedback.
Admins can control user feedback, including star ratings and comments, as well as handle any malicious conduct.
Payout Management:
Admin can validate the services and discharge payment to the car washer's account whenever you receive a payment request from the car washer.
How Lia Infraservices can help you build the best Car Wash App Development in Saudi Arabia?
Lia Infraservices – the leading mobile app development company in Saudi Arabia can be your own car wash app development partner, giving you the most successful app for your business expansion. A dedicated software for your car wash business will not only help you manage your premium customers, but it will also help you maintain their loyalty.
User-Friendly
It is simple to use an on-demand vehicle wash app. Customers in any location can choose a car wash provider in their area and schedule an appointment. They must either designate the area in which their car is located or pin an existing spot where they wish to wash their cars at a specific time.
Pocket-Friendly
Using on-demand car wash mobile applications is simple for your clients. Car wash business owners are always looking for methods to improve their client relationships and business visibility, so they offer a variety of deals and discounts for their online services. Customers can take advantage of such incentives by using apps or websites that are easy on their wallets.
Time-saving
The car wash app can save a lot of time. You are not required to wait in queue for your turn to wash your car. By providing the necessary information, a user can make immediate car wash bookings and receive the car wash as scheduled in minutes, without having to wait in queues.
Various Payment Methods
Users can choose any online payment method from a variety of payment alternatives such as debit card, credit card, online wallet, and net banking. Simply tell us about your app requirement and business app idea, and we'll assist you in turning it into a genuine mobile app.
So, what you are waiting for Contact Lia Infraservices – Leading Mobile App Development Company in Saudi Arabia working on global app development projects and get your business started to grab the online market.